Carrefour improves its fruit and vegetable packaging as part of its ACT FOR FOOD programme
In 2022, Carrefour produced 97.6% recyclable packaging.
As part of our mission to manage household packaging waste, we are very aware of the major challenge of reducing the environmental impact of packaging. To achieve this, companies adopt responsible packaging practices, in particular by avoiding pointless packaging and favouring recyclable packaging.
The freshness and shelf life of fruit and vegetables, as expected by consumers, are important characteristics. The packaging system used for fruit and vegetables needs to respect these characteristics while ensuring the sustainability of the packaging itself.
Carrefour is an excellent example of a company that has taken practical steps to combine the essential function of packaging with the related environmental issues. In 2022, Carrefour adapted a total of 300 packagings, resulting in 120 tonnes of improved materials in the context of ACT FOR FOOD, a worldwide programme designed to promote better eating, taste and quality.
1.    Replacing black packaging
Black packaging containing carbon black poses a problem for sorting centres, as it is not detected by optic separators. Even if consumers sort correctly, this packaging often ends up in the residual waste, which limits the outlets for black plastic. In addition, the carbon black used to colour this packaging means that it is not possible to create recycled white or transparent packaging, even though these are the most common types on the market. Consequently, black plastic packaging with carbon black is regarded as disruptive by the Interregional Packaging Commission (IRPC).
In response to this issue, Carrefour is eliminating packaging containing black plastic based on carbon black and replacing it with pale-coloured or transparent plastic packaging or other packaging systems. For example, the black plastic honeycomb packaging used to protect certain loose fruit and vegetables has been replaced with neutral cardboard (unbleached) from sustainably managed forests. Similarly, black vegetable containers have been replaced by transparent monomaterial containers.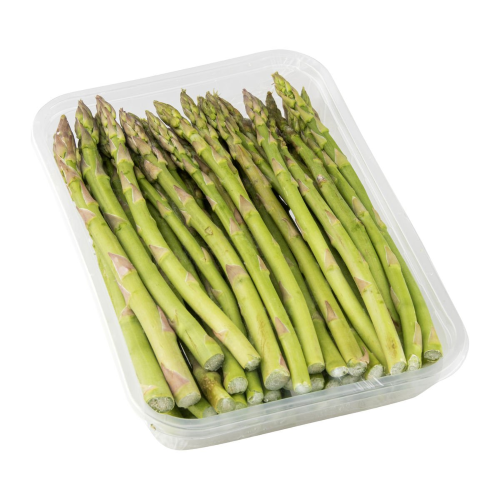 2.    Eliminating superfluous packaging
Not all products have the same needs in terms of packaging and functionalities. So streamlining the use of packaging also involves prevention. Carrefour works from two angles in this respect.
Firstly, the packaging must be proportional to the product packaged. For example, the plastic bag used for fresh herbs has been made 10% smaller, while retaining all its functionalities. And the labels on netted own-brand citrus fruit are smaller, resulting in a 16-tonne reduction in packaging.
Secondly, the stickers on avocados, sweet potatoes, new potatoes, mangos and limes are to be eliminated and replaced by a laser print of the "BIO Act For Food" logo, thereby avoiding the need for packaging. This is natural branding.
 
Apples are also to become sticker-free thanks to a change in the protective packaging - now cardboard - on which the label can be printed.
3.    Using recycled materials
Although Carrefour ensures that its packaging is recyclable, the brand also strives to use packaging made of as much recycled plastic as possible. For example, the pots in the "snack" range or the packaging used for own-brand small fruit such as raspberries or blueberries contain at least 80% recycled plastic (PET). The pots used for own-brand walnuts, hazelnuts and dried fruit already contain at least 60% r-PET. This allows Carrefour to save virgin raw materials by giving preference to secondary or recycled raw materials.